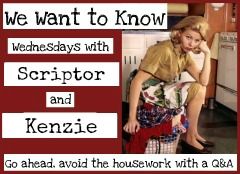 It's been a while since I've done a 'WWTK' post and I'm still pretty sure most people really don't want to know but Scriptor and Kenzie are asking so who am I to deny them??
The Questions -
1.) What is your biggest guilty pleasure?
2.) Do you actually keep your resolutions for the New Year?
If you don't make 'em, you can't break 'em!
3.) If you had to do one random act of kindness today, what would it be?
Randomly using a baseball bat?
4.) Do you have a bucket list, 101 in 1001 list, or any other list? If you do, what are some of your goals?
- I do not but I have a fuck it list..
And I have a grocery list...
And a shit list, which apparently you just made.
5.) Why do you love blogging?
- Because offending people in day to day life, face to face just isn't quite enough.